Let's discuss about Comilla magic paradise park ticket price and other details.
Magic Paradise park is one of the massive Amusement Parks in Bangladesh. Today, in this post, we will talk about Magic paradise park Comilla's ticket price and details. The park has a big Dinosaur Zone, various adventurous rides, and a vast water world. As a result, this Comilla dinosaur park ticket price Some People go there for a picnic.
Kids enjoy it a lot because the amazing wave pool feels real. This park is a nature-friendly park. Anyone can enjoy a day with a wonderful experience as the park offers the biggest entertainment and good facilities. Many people make a plan among their family, friends, office colleagues and enjoy their holidays fully. The park has huge parking facilities so people from many places come here to visit.
Table of Contents
Comilla Magic Paradise Location
Magic Paradise Park is located in the heart of the Comilla district, Kotbari area.
Magic paradise park Comilla entry fee:
Do you want to know Magic paradise Comilla ticket price?
Comilla Magic paradise park ticket price: Magic paradise ticket price is 200 Tk and any ride is 100 Tk. For Water Pool, the fee is 300 Tk. Kids who are under 3.5 feet do not require a ticket to enter.
Magic paradise park Opening time:
Magic paradise opening time: Magic paradise park remains open from 9:30 AM to 6:30 PM.
Magic paradise park off to days:
There is no off day in Magic Paradise park.
Magic paradise park Contact number:
To communicate with this park or book for any event you can contact the following two numbers.
01713130945, 01714130946.
How to go to Comilla magic paradise park from Dhaka?
From Dhaka, people can come by Asia Line, Asia Transport, or Tisha Transport. People get both AC, non-AC Royal Coach from Kamalapur with air conditioning. The Royal Coach is extremely comfortable but a little bit slow. On the way to Comilla, people can enjoy Buriganga Bridge, Meghna Bridge, Daudkandi Bridge. The best thing is they can enjoy the morning sun on both sides of the road. This natural view pleases a nature-loving eye. After reaching Kotbari, it will take twenty to twenty-five minutes to reach the gate of the park by CNG from Kotbari.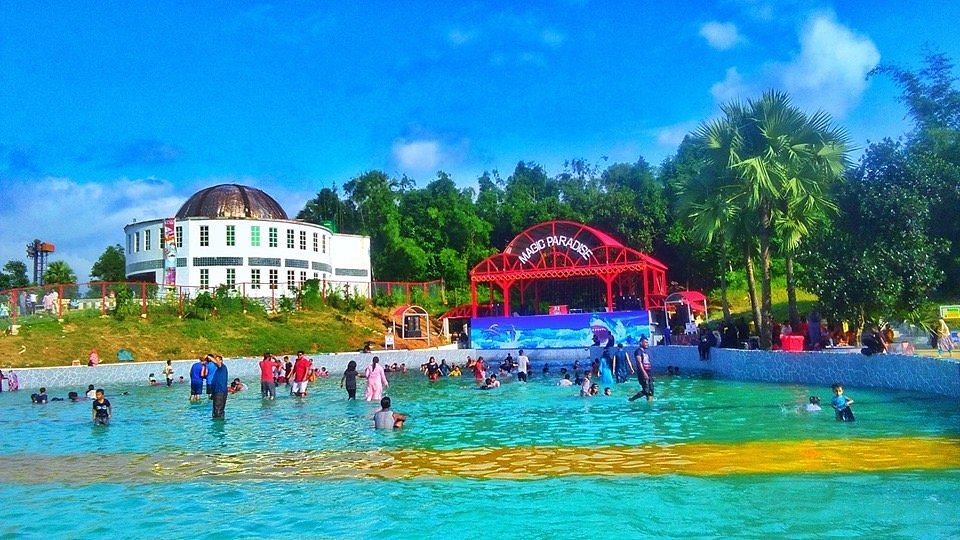 How to go to Comilla magic paradise park from Comilla Cantonment?
People can reach Comilla Cantonment enjoying a wonderful view. On the Kotbari main road, they also can get off. It will take two hours only and the rent is from 200-250 Taka. From Kotbari people can go to Magic Paradise Park by Auto or CNG. From Comilla, they can also rent a CNG-powered auto rickshaw. It will cost only 220 Tk.
About Magic paradise park Comilla:
In the Comilla District, there are a lot of parks for entertainment. Among them, Magic Paradise Park is one of the most gorgeous and big amusement parks in Comilla. This park has more than twenty different types of rides. People like it for water parks, dinosaur parks, picnic places, and restaurants. The Park is one of the greatest notable recreation parks in Bangladesh. Day by day the Park has become a spot of entertainment for people of all ages especially children for its tremendous rides and gorgeous natural views.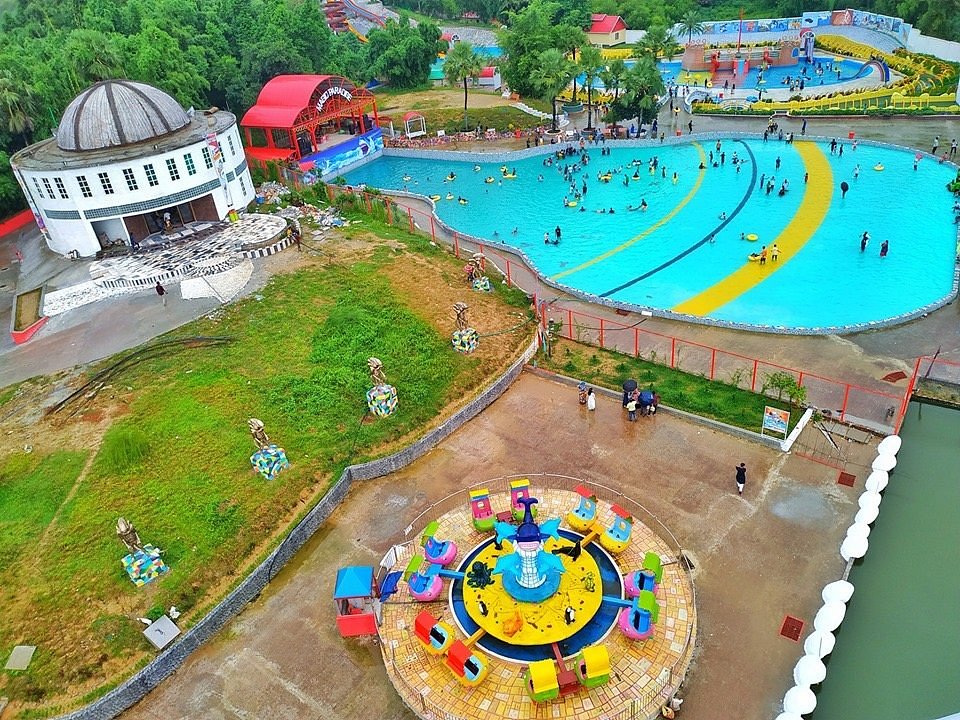 The park's gate has been built in the form of a foreign cartoon Disney. The gate is huge and very attractive. When visiting, in front of it, three dinosaurs come to welcome them by playing guitar and drums. People enjoy sitting on the top and watching the full park is something extremely fascinating.
In the park, there is a water park which is the main attraction of Magic Paradise Park. The water park is placed on the top of the small hill on the right-hand side after entering through the gate. There is a huge swimming pool, different water rides with sliders on the right. On the left, there are some fascinating rides including Toy trains, bumper cars, roller coasters, etc. On both sides, people can see dinosaurs when climbing the stairs. The live sounds amaze the children.
For children, the park also has wonderful arrangements of water pools. Like the Fantasy Kingdom or Nandan Park, people can enjoy their time here. Rail rides, Roller reminder water pools on tiny hills will make any child massively pleasured. Kids get so much happiness in the dinosaur park. The dinosaur park is artificial but it has been presented through technology that any kid will feel as if they have walked to the dinosaur world.
Conclusion:
People who have time can visit Comilla Bird, Itakhola Mura, Rupban Mura, Mainamati Museum, and numerous places of interest which are very near to the Magic Paradise park. However, we tried to provide the essential information about Magic paradise park. If anyone needs any information about this park, please let us know.