Blue Water park Comilla: Water Parks are one of the most favorite places of Bangladeshi people. The Water parks make for an excellent day out and deliver a quick break from the busy life. Today, in this post, we will talk about the blue water park Comilla ticket price, location, and details. People can satisfy themselves with some thrilling rides or sit and relax beside the pool. The place is suitable for an outing with both friends and family. If the weekend is around the corner and people have not got anything planned, you can visit the blue water park.
In Comilla, there are nineteen tourist attractions. The main types of tourist attractions are in Comilla. There are numerous parks in the city. Among them, Bluewater park is the fabulous one.
Table of Contents
Bluewater park Location:
Blue Water Park is located at Blue Water Park Road, Comilla. This is the best amusement park in Comilla. People can find the exact location of Blue Water Park on the map.
Blue Water park Comilla Ticket price:
For entry in the park, the ticket price is one hundred takas only which is very reasonable.
Comilla blue water park opening hours:
From Sunday to Saturday the park remains open. Visitors can visit the park from 9:00 am to 6:00 pm.
Comilla blue water park off days:
There are no off days in Comilla Bluewater park.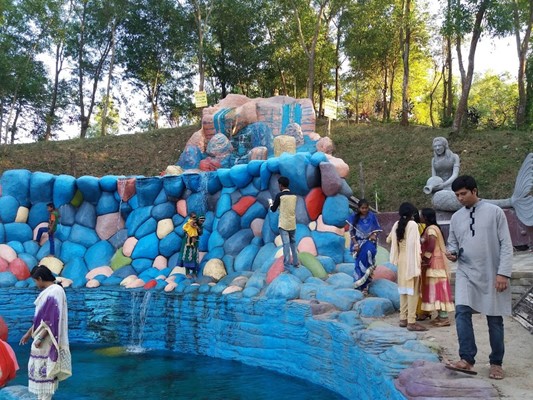 Comilla water park contact number:
To communicate with the Comilla blue water park contact number is given below. People can call this 01832-569666 number and ask their questions.
How to get to Comilla blue water park from Dhaka?
People who want to go to Comilla and visit the blue water park can get a bus from Jatrabari, Dhaka at 7:00 AM. There are Ac and non-ac buses available. They have to pay 120 Tk to 150 Tk. Usually, people can reach Comilla in two and a half hours if there is no traffic jam. To reach the destination, people have to get off at Comilla Bishwaroad Kotbari Road. Shalban Bihar is three kilometers from the Kotbari bus stand. Then they can get a CNG at Tk twenty tk per person. They can also walk west from Shalban Bihar or by auto for fifteen Taka, it will take twenty minutes to walk.
How to go to the blue water park from Comilla Cantonment?
People can easily go to the blue water park from Comilla Cantonment. After reaching the Comilla Cantonment, they can get a rickshaw or auto. It will take 19 minutes to reach the park.
About Bluewater park kotbari Comilla:
Bluewater Park is an exceptionally nice spot to enjoy a day outing with family and friends. The natural view of this park is awesome. People appreciate and admire the effort to make such a wonderful spot in a remote area. People come to enjoy a calm and peaceful natural environment. The park is so neat and clean.
The blue water park is the only amusement park listed in Comilla. People of every age like the place, especially Kids enjoy the place very much. It is an entirely natural park. The Owner did not make it too commercial. People who love nature, it will give them enough pleasure. The Park is symbolic with its watercolor of an inner artificial lake. It is an extremely entertaining place for all. There is an artificial waterfall. Couple and adult guys gather here as it is a secure park for enjoying dating and natural beauty.
There are few adventurous rides available for children. People can enjoy the swimming pool. Yet, people who want to pay extra for the swimming pool, need to take an extra dress with them. People can get tea and biscuits inside the park. It is a recreation park near the city of Comilla. The park has elegant decorations though rides are a little bit risky. There are many beautiful flower gardens and a pool.
This park is a tremendous place to amuse everyone of all ages. The environment is clean and a beautiful theme park in the heart of the green with comfortable rides for different ages. There are sufficient toilets, food stalls inside. There are some tiny hills locally called Tila that make this park look beautiful.
Conclusion:
People can visit Lalmai Hills, Shalban Bihar, Buddhist Temple, Rupsagar Park, Magic Paradise, Dinosaur Park, Fun Town, and Mainamati Museum in Comilla. If you want to avoid crowds you can visit this park on any holy day. However, we tried to provide information about Blue Water park. We hope this information will help people enough to know about this park.